Admittance


Sometimes it is necessary to admitte your pet, when very ill. This to maximalise the chances on recovery from the illnes. Depending on the illness and needed therapy the animal will stay at the admittance room. In this area we're able to give fluid therapy, heat therapy, medication, special nutrition to recover and even oxygen therapy and lasertherapy. The admittance room for dogs and cats are seperated.
Your pet is closely monitored by the veterinarians and assistents. If necessary blood examination, ultrasound of x-rays can be made, after your approval.
Sometimes multi-day admittance is needed. Your pet will be supervised on a camera during night. During the day it is possible to schedule a visitation moment for your pet with the assistent.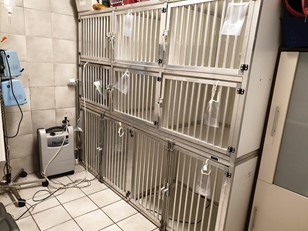 Make an appointment?
Make an appointment with Dierenkliniek Stevenshof - Valkenburgse Meer? You can!
T. 071-5315512
E. info@dkleiden.nl (Only with non emergency questions)